From March 28-31, 2023, the third network-wide event of the MSCA ETN AUTOBarge project took place at TU Delft in Delft (The Netherlands).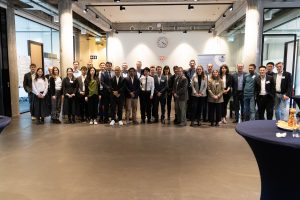 The first day, March 28, 2023, consisted of technical and soft-skill training sessions for the ESRs and the ESRs council. The planned soft-skill training sessions provided the ESRs with insights into "Storytelling and getting one's message", and "Getting Unstuck", while the technical training session gave the ESRs insights into "Human factors and automated transport safety: learning from different transport modes".
Days 2 of this network-wide event consisted of providing a progress report to the consortium, further fine-tuning the technical tracks and ESR presentations in the parallel work packages, and a visit to the RAS lab at TU Delft. The day ended with a fun-filled evening of bowling and project dinner in the centre of charming Delft.
On day 3 of this network-wide event, March 30, 2023, the AUTOBarge stakeholder interviewing and co-thinking session took place at the VNAB knowledge and meeting centre in Rotterdam, organised with the support of IVR. During this day, AUTOBarge WP presentations took place, together with ESRs poster presentations, Industry talks and a Panel Discussion.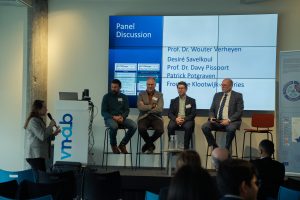 The final day (March 31, 2023) of this network-wide event 3, consisted of more technical training sessions for the ESRs. These sessions provided the ESRs insights into "Optimizing transport and logistics over water towards sustainability", and "Enhancing Autonomy in Mechatronic Systems: An Advanced Model Predictive Control Framework for Autonomous Vessels". The last soft-skill training session at this network-wide event was about "How to write a paper".
The detailed agenda of this AUTOBarge network-wide event 3 can be found here.
Want to know more? Find out about an ESR's perspective of this network-wide event through here.