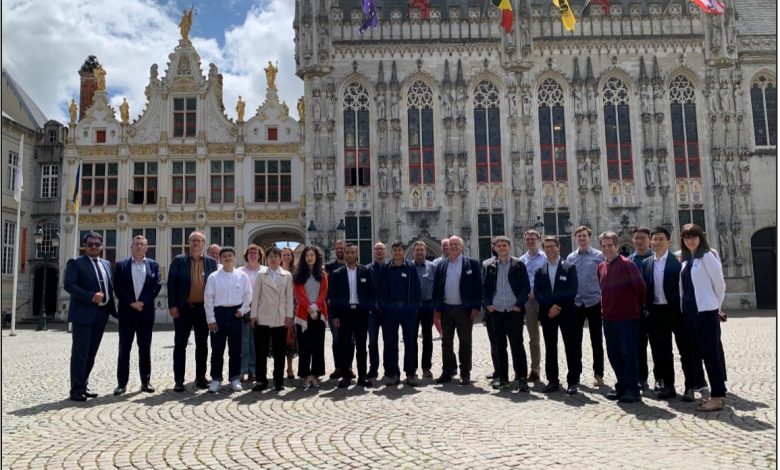 On Monday, June 20th, the network-wide event 1 was attended by the recruited/started ESRs, the supervisors and their colleagues, the representatives of the partner organisations, and the management support team. The day started with a detailed introduction regarding the practical arrangements on the management of the AUTOBarge Project followed by the Early Stage Researchers' (ESRs') pitch presentations on their background, project, and host institute. In the afternoon, the ESRs followed a soft-skill training on "Ethics, Integrity, Open Access and Open Science" while the Supervisors followed a dedicated supervisor training on "The Supervisor: role & responsibilities". The first day of this network-wide event was capped by a tasty project dinner at Crowne Plaza Bruges.
Tuesday, June 21st, started with three parallel sessions regarding the three scientific work packages where technical aspects and practicalities were discussed and clarified. These WP parallel sessions were followed by a "Secondments Café" where the ESRs could meet the representatives of the institutions hosting secondments. The main aim of the Secondments Café was to discuss the specific arrangements regarding the first upcoming secondments. After the lunch break, all interested participants were able to take part in a guided city walk of charming through Bruges' beautiful small streets along the canals. This guided city tour was followed by a lab visit at KU Leuven Bruges Campus where the recently installed innovation labs Industry 4.0 Machine as Cyber-Physical System and The Ultimate Factory were visited.
The detailed agenda for these two days of the AUTOBarge NWE 1 can be found here.
Some ESRs actively disseminated this network-wide event through their own social media, e.g. AmirReza
https://www.linkedin.com/posts/amir-r-haqshenas-m_i-am-privileged-to-announce-that-i-attended-activity-6946437648865501184-fvBz?utm_source=share&utm_medium=member_desktop
Abhishek https://www.linkedin.com/posts/abhishekdhyani13_i-had-the-opportunity-of-meeting-the-team-activity-6946504917490528256-7G7r?utm_source=share&utm_medium=member_desktop
and Camilla https://www.linkedin.com/posts/camilladomenighini_attending-the-first-msca-etn-autobarge-networking-activity-6944906401156632577-0XLu?utm_source=share&utm_medium=member_desktop