AmirReza Haqshenas Mojaveri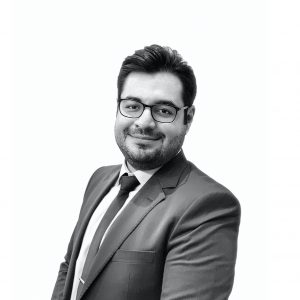 AmirReza Haqshenas Mojaveri is an Early-Stage Researcher (ESR) under the research and development division of the PERISKAL group, and the Intelligent Mobile Platform research group, in the Department of Mechanical Engineering at the KU Leuven. As part of the AUTOBarge, AmirReza investigates adding autonomous features to the navigation systems of inland vessels. He will consider the vessel maneuvering dynamics, the vessel's surroundings situation, and external disturbances to propose an algorithm based on a Model Predictive Control approach to calculate a list of suitable waypoints for the Track Keeping Pilot, which regulates ship steering to keep it on a pre-defined track.
Moreover, AmirReza finished his Bachelor's degree in Electrical Engineering focusing on Control Systems from the BABOL Noshirvani University of Technology in 2015. Also, he accomplished his Master's degree in Control Systems Engineering with a focus on the Tracking Control Problem of Mobile Robots at the Shahrood University of Technology in 2019.
His passion is to continue his research in autonomous mobile platforms for shaping the next generation of autopilots.